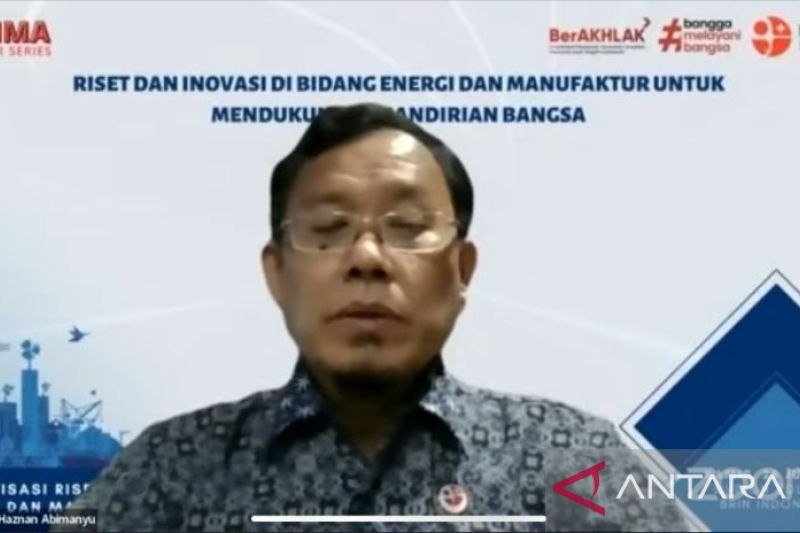 BRIN develops environmentally friendly energy sources to reduce emissions
Jakarta (ANTARA) – The National Research and Innovation Agency (BRIN) is developing environmentally friendly alternative energy sources, such as bioethanol for biofuels and hydrogen, to support the transition of fossil fuels to clean energies in order to reduce carbon emissions.
"The National Research and Innovation Agency continues to conduct research and innovation to support the energy transition using alternative energy sources in Indonesia," the director of the Research Organization on BRIN Energy and Manufacturing, Haznan Abimanyu.
This effort is in line with President Joko Widodo's speech at the 2022 annual session of the People's Consultative Assembly and the joint session of the House of Representatives and the Council of Regional Representatives here on Tuesday.
Abimanyu said that in addition to downstream, the optimization of clean energy sources and green economy should be constantly improved.
President Joko Widodo said clean energy from solar heat, geothermal, wind, ocean waves and bioenergy will attract industrialization that produces low-emission products.
Dependence on fossil fuels has had an impact on climate change, so clean energy has become an urgent need, both nationally and globally, Abimanyu said.
Related news: RI backs strategy to reduce carbon emissions from coal
For the industrial sector, research on ecosystem innovations in carbon capture and storage systems, blue hydrogen and green hydrogen for petrochemicals, biofuels in bioenergy have become vital for the protection of the ecosystem.
In the transport sector, the government is preparing alternative fuels that respect the environment. Thus, the agency conducts research and development on bioethanol and hydrogen as alternative fuels that respect the environment.
Bioethanol is one of the biofuels that could be used as an additive and substitute or in the mixture of gasoline. Additionally, research related to hydrogen as a transportation fuel continues as part of efforts to reduce emissions.
The agency's second-generation (G2) bioethanol pilot plant has successfully developed bioethanol with a purity of over 99.6%.
The raw material for G2 bioethanol is lignocellulosic biomass from oil palm plantation waste in the form of empty oil palm bunches, which are currently the most abundant since Indonesia is the world's largest producer of palm oil.
Related News: Indonesia to experiment with the use of bioethanol
Using ethanol as a fuel oil blend could reduce carbon dioxide emissions by 70-90% compared to the equivalent of a 90 octane fuel oil.
However, many questions remain around the use of bioethanol as a household fuel, including the physical properties of ethanol, the guarantee of feedstock availability, databases and energy balances, all of which need to be resolved.
Leading expert researcher at BRIN's Energy Conservation and Conversion Research Center, Eniya Listiani Dewi, said one of the efforts to reduce emissions from the transport sector is the use of battery-electric vehicles. and hydrogen.
The use of hydrogen vehicles is more suitable for long-distance transport because hydrogen vehicles can travel long distances with a single refueling.
The time required for refueling with hydrogen is less than three minutes, just like for gasoline. However, currently the hydrogen production infrastructure, including filling stations, requires significant investment.
Meanwhile, charging electric vehicles takes a long time. Even at fast charging stations, it can take up to 1.5 hours. Therefore, electric vehicles are more suitable for short-distance transportation.
Related news: LIPI pushes for the development of second-generation bioethanol

Related news: Carbon tax bolsters efforts to reduce GHG emissions: BRIN