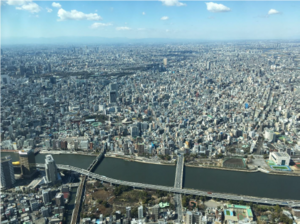 Changes in Tokyo's electricity consumption after nuclear
Since 2003, three of the nuclear power plants that supplied Tokyo, Japan with electricity have been shut down. Researchers suspected this would have implications for the city's consumption-based CO2 because the electricity was supplied by other means. To understand the long-term implications of this change on Tokyo's power grid, researchers from the University of Hiroshima studied how CO2 emissions in Tokyo have changed since the power plants closed.
The findings were published in Urban climate June 28.
"In this study, we analyzed changes in Tokyo's responsibility for carbon mitigation after the electricity supply shock caused by nuclear power plant accidents to examine how dependence on electricity supply affects CO2 emissions. In other words, we investigated whether the suspension of the nuclear power plant had any impact on Tokyo's carbon dioxide emissions," said corresponding author Ayyoob Sharifi, a professor at the University's IDEC Institute. from Hiroshima.
The three nuclear power plants that supplied Tokyo with electricity were shut down due to an inspection in 2003, the Niigata Chuetsu-Oki earthquake in 2007, and the Great East Japan Earthquake in 2011. Since the closure power plants, the electricity produced by nuclear energy has been reduced by a third. Understanding the CO difference2 emissions before and after the shutdown of nuclear power plants could help researchers understand Tokyo's responsibility for mitigating carbon emissions and meeting the goals of the Paris climate agreement.
Tokyo is an important city to study when it comes to global carbon mitigation efforts. Like many large cities, the city has evolved from an industrial city to a service city. In a service city, many of the goods and services consumed by the city are produced outside the city rather than inside. Each year, Tokyo's population grows and with it, the demand for goods and services increases.
"We found that there was no significant change in Tokyo's consumption-related emissions. Additionally, due to the shift from nuclear to thermal power plants, CO2 emissions contained in electricity imported from outside the city have increased. We argue that since local governments in Japan report their emission data based on electricity imported from outside the city limits, their reported data (on their responsibility for climate change mitigation) is underestimated," said co-author Masaru Ichihashi, a professor at IDEC. Institute of Hiroshima University. This increase in CO2 emissions from generating, storing and transporting electricity from outside the city were directly linked to the switch from nuclear to thermal power.
"Appropriate emissions accounting should also consider other emissions, including those associated with other services and imported goods and products. Since Tokyo's consumption structure has remained stable over the past decades, we assume that Tokyo's responsibility for emissions will not change unless there is a major shift to consumption and production patterns. more low-carbon and sustainable in the city," said co-author Shinji Kaneko. , professor at the IDEC Institute of Hiroshima University. This would involve finding a more sustainable way to generate electricity for the city
Going forward, researchers will continue to monitor how Tokyo's CO2 emissions change over time.
"We would also like to examine how local initiatives such as waste recycling and renewable energy generation are developed and implemented in the city and how successful they are in facilitating the transition to the low carbon economy. and to achieve the city's ambitious climate change mitigation goals (aligned with the goals of the Paris Climate Agreement)," said lead author Kae Murakami from the city of Hiroshima.
###
About Hiroshima University
Since its founding in 1949, Hiroshima University has strived to become one of Japan's most important and comprehensive universities for the promotion and development of scholarship and education. Consisting of 12 undergraduate schools and 4 graduate schools, ranging from natural sciences to humanities and social sciences, the university has become one of Japan's most distinguished comprehensive research universities. Site in English: https://www.hiroshima-u.ac.jp/en
---
The title of the article
Changes in carbon mitigation responsibility of Japan's capital, Tokyo – analysis of electricity supply shocks due to nuclear power plant accidents
Publication date of articles
June 28, 2022
Conflict of Interest Statement
The authors declare that they have no known competing financial interests or personal relationships which might appear to influence the work reported in this article.
Disclaimer: AAAS and EurekAlert! are not responsible for the accuracy of press releases posted on EurekAlert! by contributing institutions or for the use of any information through the EurekAlert system.