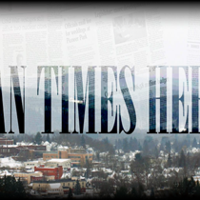 Cold weather equals new spike in city energy use | Archives
SALAMANCA ã As temperatures dropped outside this week, power consumption across the city hit an all-time high.
Total power consumption for the Salamanca Board of Public Utilities system peaked at 18,481 kilowatts at 10:30 a.m. Thursday.
"We haven't had these cold temperatures for three years now," said BPU electrical foreman James Crowley, explaining the new spike he is monitoring from his computer at the Rochester Street substation.
On Thursday, the city's low temperature was recorded at 3 degrees at the Frank Street substation.
"This temperature is on the side of the building and does not reflect the cold winds we had," Crowley said.
The recent period of cold temperatures causes all users of the system to consume more energy.
"We haven't been able to see our load growth over the last three years 'until this last cold snap,'" Crowley said.
While residential trends over the past decade have moved toward heating with the city's cheaper electricity, there is also an increase in commercial use.
"We have a new hotel and several small smoking rooms which also heat with electric heaters," Crowley speculated.
In a 1982 BPU study, the city had 168 homes with electric hot water tanks and 1,095 with natural gas. Only 103 residences used electricity as their main source of heating, compared to 1,073 using gas.
"I bet it's quite the opposite," Crowley said. ßAt least 50% is electric, if not more.à
Today, it is likely that more than half of the heat is electric and the rest is supplemented by plug-in heaters.
Other lifestyle changes reflected in increased use include microwave ovens, larger side-by-side refrigerators, and more computer and entertainment equipment.
Most electrical systems in the United States peak during the summer months when air conditioning kicks in, but in Salamanca and other municipal electrical systems selling cheaper electricity, the cold winter months bring the peak usage.
Higher usage will result in higher bills.
"A high peak means we will pay more for our electricity," said BPU chief executive James Brundage.
The city pays $1 per kilowatt for hydroelectricity up to 12,800 kilowatts per month, above that amount it pays $7 per kilowatt for additional electricity purchased through the New York Municipal Power Cooperative Agency.
Additional Power Charges and Transmission Charges appear on customer bills as part of the PPA or Buyer Power Adjustment.
From May to October, the electricity consumption of the BPU is under its electricity allowance. For example, in July 2002, the city's peak was 10,894 kilowatts.
Crowley called the use of the summer months an undersell of the city's cheap electricity.
The addition of 160 customers in the Jimersontown area next month is expected to have little effect on current customer bills due to two factors: underutilization of hydroelectricity during the summer and fall months and because the more expensive additional power is distributed equally to all customers based on kilowatt-hours used.
Brundage noted that while the five-month peaks of the year may be higher, the costs will be divided by more kilowatt hours and more customers.
"It's a win-win situation for the people of Jimersontown and for the BPU," he said.
The city's electric rates, which are expected to rise 9% later this year for the first time in 10 years, remain well below other sources.
ßEven during the coldest months of the year, when domestic heat is an important factor, more than two-thirds (of purchased electricity) is bulk hydro, with the remainder supplied by other sources. That's why we always offer some of the lowest rates. in New York State," Brundage said.
Crowley said any efforts to lower the peaks will lead to lower bills and urged homeowners to become "energy savers".
Timers on hot water tanks that turn off in the morning and back on after noon, insulation blankets on hot water tanks, and general insulation would all reduce city usage and result in lower bills , Crowley explained.
There have been a few localized outages recently due to overloaded transformers, Crowley said.
"When this system was built, it was not designed for the electric heat load that we have now. We're slowly rebuilding it, but it takes a lot of money and a lot of time," Crowley said, noting that a 50 kVA transformer costs $6,500 and the city has $1,300.
Crowley estimates that 25% of the system has been rebuilt in the past three years.
The BPU spent more than $250,000 on electricity in December, not including its operating costs and system upgrades, Crowley said.
"When people turn on a light switch in their homes, there's a lot going on behind the scenes to make sure they have power," Brundage said.