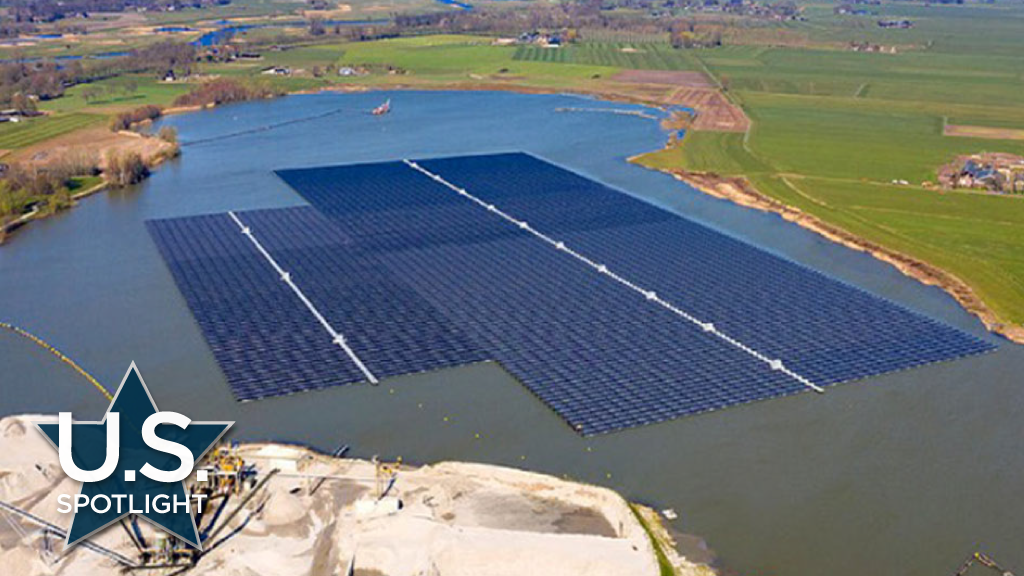 Solar seeks to quench Texas' thirst for electricity
Summer heat has already hit Texas this year with an expected increase in electricity demand.
During the weekend of June 11 and 12, demand reached an all-time high, exceeding 75 GW.
Although the Electric Reliability Council of Texas says it has a summer reserve of 22.8 percent, skeptics say outages are inevitable due to severe weather and unforeseen maintenance issues.
The state faces the dual challenge of anticipated future electricity demand shortfalls while minimizing any increased reliance on fossil fuel power generation. The hope is that renewables like solar generation will do both, especially given the continued demands of the state's construction boom.
However, planned investment in solar installations fell nearly 50% when the federal government announced a tariff investigation into solar panels and components from the Far East in March. It has put 100,000 American jobs at risk and cast doubt on President Joe Biden's clean energy goals.
The good news was the announcement in early June of a 24-month tariff exemption under the White House's invocation of the Defense Production Act. With the tariff exemption bringing import costs closer to pre-pandemic levels, there is a turnaround in new investments and construction of solar installations proposed in the near future.
Domestic solar component producers, especially those in Texas itself, are unhappy with the White House announcement. However, those watching the state's growing electric demands see the rate reductions improving the attractiveness of solar farms across Texas.
Some of the newer investors in solar installations in Texas are foreign companies.
The Roadrunner solar farm in Upton County, five miles northeast of McCamey, came online in 2021 and now generates nearly 500 MW of electricity. Italian international renewable energy company Enel Green Energy says the Roadrunner is the largest solar farm in the United States and offsets more than 800,000 tons of CO₂ emissions per year.
Two 250 MW and 235 MW solar developments built by Canadian Solar Inc., based in Guelph, Ontario, are located in Pecos County in West Texas and generate enough electricity for 62,000 area homes. Canadian energy infrastructure giant Enbridge plans to build an 85 MW solar facility at its port terminal in Ingleside, near Corpus Christi.
Pecos County is also the location of the 255 MW Greasewood solar facility, built and owned by Danish company Copenhagen Energy Partners, and commissioning in 2021.
The other investors in solar energy are American. A notable example is 7X Energy, headquartered in Austin. The company says its projects currently planned or under construction in Texas represent a capital commitment of more than $1.5 billion and a total power generation capacity of 1,350 MW.
While many recent and proposed solar energy installations are located in open spaces around the state, two recent project announcements open the door to innovative location possibilities.
Houston-based Cypress Floating Solar LLC is proposing a solar farm that will float on the waters of a reservoir in Brazoria County, six miles southwest of Angleton. The project is expected to cover over 450 acres and will generate 150 MW of electricity when commissioned in 2025.
Third Pillar Solar, a company specializing in the development of floating solar farms, is investing $230 million in the project.
"Shading water with floating structures can significantly reduce evaporation and improve water quality by reducing algae growth," the company explains.
This is a proven technique in over 500 similar installations around the world and appropriate in a condition where the tanks are exposed to high temperatures and direct sunlight.
A smaller but promising solar farm proposal would see the transformation of an abandoned 240-acre landfill in Houston's low-income neighborhood of Sunnyside into a facility that could generate enough power for 10,000 to 20,000 homes. City officials say the landfill has been an eyesore since it closed nearly 50 years ago.
"The Sunnyside Landfill Solar Project will significantly transform a former landfill in our city into one of the nation's largest urban solar farms," ​​Houston Mayor Sylvester Turner said in a press release. "This project is an example of how cities can work with the community to holistically address long-standing environmental justice issues, create green jobs, and generate renewable energy in the process."
While the job creation associated with the many solar projects underway across Texas is modest and largely tied to facility construction, electrical infrastructure is the long-term beneficiary. Without more power generation capacity, the state's continued ability to attract new investment and associated construction could come into question.